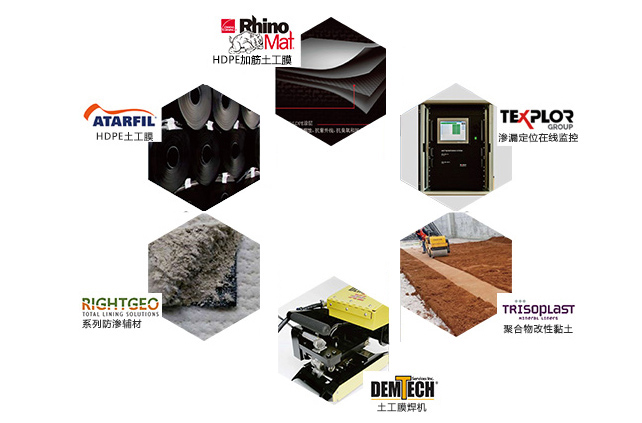 Shanghai Rightway Environmental Protection Technology Co.,Ltd (hereinafter referred to as "Rightway EnviroTech") is Joint-Venture company established in Shanghai Pilot Free Trade Zone of China, specializing in the development, introduction and promotion of new materials, new equipment and new technologies in the field of environmental protection. Rightway EnviroTech is a pioneer of providing total solutions for a variety of environmental containment systems in China, including upfront design optimization, key materials and equipment required in construction and operation phases, leak location services and online leak monitoring.
Rightway EnviroTech has been active in the segments of landfills for municipal solid waste and fly ash, landfill closure,safe disposal of industrial solid waste and hazardous waste, tailings pond, mining heap leach pad , petrochemical waste, brine channels and evaporation ponds, various water retention applications.

Rightway EnviroTech has been working in partnership with both universities and design institutes in environmental science and engineering on new materials and new technologies. Our key partners include Shanghai Jiaotong University, Tongji University, Hohai University and Wuhan University of Technology in developing novel geosynthetics, and seeking innovative solutions to environmental challenges. We also work closely with research and design institutes such as Shanghai Environmental Research Institute, China NERIN Institute, North China Municipal Institute and Shanghai Academy of Agricultural Sciences to provide innovative solutions for solid waste disposal and resource utilization in China.
Rightway EnviroTech is a council member of China Technical Association of Geosynthetics (CTAG), member of CTAG Environmental Committee, and CTAG Lining and Drainage Committee, member of China Chapter of IGS. Certified to ISO 9001 and 14001, OHSAS 18001, Rightway EnrivoTech has committed to continuous improvement in quality control, environmental protection and occupational health.
In September 2019, Rightway EnviroTech built a new business entity Nanjing Rightway Environmental Research Institute (RERI) with focus on technology development and transfer/licensing, and technical consulting for environmental sectors, new materials, new processes and engineering practices for environmental projects, environmental remediation, solid waste utilization and disposal. The mission of RERI is: Providing Novel Solutions to Environmental Challenges!